I thought I would join in the confessional this week.
Yup I have something to confess to you y'all
I came accross the meme a couple weeks ago but never thought of anything to say however this week I have something.
All beatified isn't it??
So on to the important
crap
stuff.
This last week on pick up and drop off of the girls to their mom she proceeded to talk my ear off with tons of bullsh$%!!
She has done this before but it always ends bad for me.
Every time she plays nice with me it ends up with me drinking coffee laughing with the CPS guy in my house.
Yup she turns me in for trumped up charges, that have no proof, that I get to amuse the CPS fella with how they aren't possible.
So as I'm sitting there last night I tried everything to get her to shut up.
I didn't ask questions, I started the car, I even had it in park, she still wouldn't stop.
So I eventually drove away saying its late I have to go while she was still rambling.
In my head I'm thinking...
How can I remove her tongue, how can I...
Yes I had some very bad thoughts about there mom.
I have them alot. (I WOULD NEVER ACT ON THEM)
I yelled at the hubby for not making/telling her we HAVE to go.
I yelled at him for making me sit through that twice in one week.
I tend to yell at my hubby alot for him being to quiet.
I get frustrated easily anymore.
I think it's my anxiety/depression.
I don't take meds for it even though I should.
I hate how it makes me feel like a zombie and no feelings, not even able to cry when I take them.
Besides they really only give ya drugs for feeling suicidal...
Not for having thoughts of homicide do they?? (LOL I haven't had that bad of thoughts but if I'm drinking coffe with the CPS fella next week I can't promise I won't dream it)
So there ya have it.
Oh and if you here from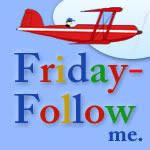 Make sure to leave me a comment so I can come back to you.
Have a great day!!